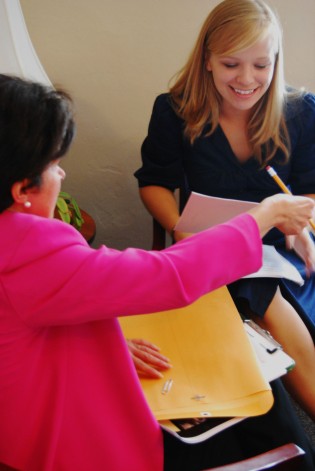 Young Adults 15 – 29
Individual Career Coaching allows you to discover your talents and skills and identify where, within the world of work, you will find fulfillment and joy.

Identify Your Transferable Skills


Why A Career Coach For You?


Prioritizing Your Goals And Taking the First Step


Career Decision Making: Defining What You Want
In the Discovery Phase
Robin Roman Wright can help you with 3 main steps:
Identify your gifts and talents – using proven exercises and assessments.
Outline the key factors that make up the "picture" of your ideal career.
Make the most of your educational choices.
Career coaching services:
Developing a criteria for suitable schools
Preparing for the college application process
Choosing a major
Developing a short list of graduate schools and a game plan for getting admitted
Seting up a time management system for completing school work and having time to get involved in extra-curricular interests
Accessing supportive services so that you can succeed to your fullest potential
Scouting out internship opportunities that will help you gain experience in a field of interest.
In the Launching Phase
Career coaching in the launching phase can help you:
Determine a short list of job titles or professions that match your "picture" of an ideal job or career.
Develop a set of leads in order to discover job openings that might otherwise go undetected.
Review your resume and cover letters.
Prepare for job interviews so that you can distinguish yourself when it counts.
Develop a time management system so that you can get in motion and keep moving forward in order to find a job.
In the Transition Phase: Succeeding in Your New Position
Career Coaching in the transition phase can help you:
Learn how to approach new job responsibilities so that you gain skill and independence quickly and efficiently.
Understand your behavioral style and how to stretch your capability to get along with a wide range of people.
Work on your communication skills in order to develop good working relationships and add value to your team and long term career.
Set goals and develop plans to reach them in the first 3 months on the job.
Robin Roman Wright also offers career coaching for teens and young adults with ADHD. She has worked with a world renowned team of professionals and now is offering ADHD coaching services to teens and young adults in her private coaching practice.
Leadership Coaching
Helping you become "A Person of Influence." Leadership counseling can help identify your skills, values, abilities, and interpersonal style. Partnering with you to set stretch goals, reflect on your attitudes and habits, and set in motion action plans for achieving the goals you set.
Leadership Coaching can help you:
Learn to adapt your interpersonal style to relate more effectively with others: peers, subordinates, and those in authority.
Increase your ability to work with people from diverse backgrounds.
Refine your positions on success, values, and ethics in your career through discussions and "what if" scenarios.
Try-out various time management tools and techniques in order to find something that works for you.
Leverage your learning style in order to learn school work or job skills more efficiently and effectively.
Plan how you will handle workplace problems and conflict with diplomacy and tact.
---
Adult Coaching
Offering customized leadership, career, and professional coaching to help you achieve goals with less time, angst, and effort. Using the proven Corporate Coach University model as a framework for coaching sessions, Robin Roman Wright helps you speed development, attain your goals, and create a meaningful life.
Robin Roman Wright will encourage you to:
Conduct a self audit of your skills, abilities, and gifts.
Reflect on and refine your understanding of your personal and, where applicable, your organizational mission and priorities for your career.
Coaching sessions can really help you think "outside of the box" as you seek to follow dreams and create a more fulfilling life.
---
Interested?
To find out more contact Robin Roman Wright by e-mail at: coachrobin@leadershipandcareers.com or call (978) 447-1496.
Career and Leadership Coaching provided via telephone or in person.
Out-of-State and International clients welcomed.
You can request a complimentary 15-minute inquiry session – Check out whether coaching services would help you get in action and move forward.
---
Forms
Before your first session, please click here for the forms you will need.